Arrow stars Stephen Amell, Katie Cassidy, David Ramsay, Willa Holland and Emily Bett Rickards. I love this dark and comic-devoted take on the rich kid turned superhero in Starling City. My jewelry has been worn by Felicity Smoak, Thea Queen and Susan Williams over the course of seven seasons and I couldn't be more thrilled! I loved working with costume designer Maya Mani on this show.
Click on the character below to see screenshots of jewelry seen on the show and shop the looks!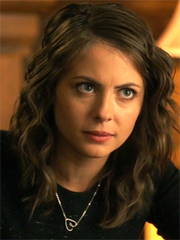 Arrow is a TV show on the CW network based on the classic DC comic that features the adventures of Oliver Queen as The Green Arrow. I wasn't sure about the show until the season 1 finale, where (SPOILER ALERT) Tommy is killed and Oliver resolves to become a hero. That episode and the quirky chemistry he had with an IT gal Felicity Smoak hooked me.
 love how Felicity Smoak (Emily Bett Rickards) has both a corporate and sexy AND nerdy style. She's a #womancrush for sure and I was so excited to see that most of my jewelry pieces were used for her character.
Huge thanks to the costume team and Costume Designer Maya Mani. I wanted to interview her for my blog, but she's a busy lady, she's currently designing Arrowverse spinoff Batwoman!
xoxo Arrow peeps!
peggy